Just when you thought she couldn't be any higher, on top of the world with her successful beauty line, Rihanna released her Fall/Winter collection for Fenty x Puma. This particular collection is called Fenty University. It's inspired by the concept of American college apparel. The best part? The Pop-up Shop hosted in NYC was in a SCHOOL BUS! Yes, a school bus according to BET.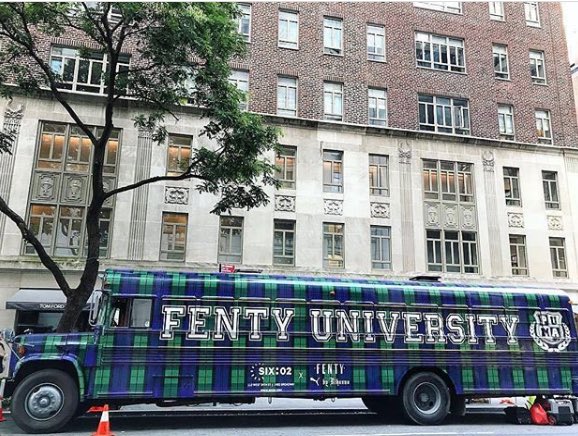 What do you usually think of when you think of college students and their attire this time of year? Letterman's jackets, hand-knit sweaters, track suits, tennis dresses, bomber jackets, maybe even a satin track suit? That's what Rihanna is providing full force in this Fall/Winter collection including a mascot bear bag, new Creepers and more.
Now we all know RiRi is known for bringing back that old-school 90s style shoes called "Creepers." Well this time it has an added touch–an ankle strap. The ankle strap is thick with the word PUMA written across it. It comes in colors such as White, Black, and Red with Blue, Black, White and PUMA written in Orange. The retail price on these sneaks are going for $180.
This line is inspired by not only just the standard American college apparel but by all the cliques and groups of school. Skaters, Sorority girls, goths, jocks, nerds and all with a slight street style edge to it. At least this is how it was showcased at FW17. It's catered to everyone which isn't surprising. It's very apparent that Rihanna makes it a purpose to cater to all different kinds of people just by looking at her Fenty Beauty line alone and the vast color spectrum available for all shades. Fenty University is now available as of September 28th of this year. Cop while you still can!